"You can't buy happiness, but you can buy coffee, and that's kind of the same thing."
Coffee is one of the most beautiful things in the world, and for many of us, a cup of coffee is what gets us going. But to brew a delicious cup, you need a badass machine too.
So we at Freshpresso, went on a mission to find out the best coffee maker. We tested several coffee makers, asked baristas across the globe and consulted some renowned coffee bloggers. All of this has helped us narrow down to the top coffee machines in different categories.
So, if you are a fan of café styled drinks, and want to brew that right from your home, then Breville BES870XL Barista Espresso Machine, is the best you can get. Solid piece of machinery, rich espresso extraction and the best milk frothing system, you can't get better than this.
But if you like to keep it simple and convenient, Keurig K55 is what you should go for. This baby brews a delicious cup in under 60 seconds. (Pretty Darn Impressive!)
Not, all coffee makers were made alike, and different coffee makers rely on different technology and cater to a specific need. If you are a fan of a specific coffee maker, and looking for the best buy in 2019, well we have got you covered. In the following sections, we discuss the best coffee makers in different categories.
Best Espresso Machine 
Espresso is at the heart of coffee house drinks and is probably the purest form of coffee extraction. Almost every café on planet earth has an espresso machine on their countertop.
With an espresso machine, you can brew your favorite style of coffee right from your kitchen. Here are our two top recommendations for espresso machine –
[Best Pick Overall] Breville BES870XL Barista Espresso Machine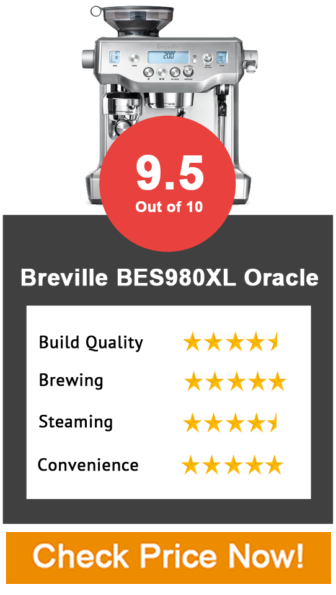 This bad boy from Breville is easily the-complete espresso machine for home use. First up, with an all stainless steel construction and a powerful heating element, is built to last a lifetime.
Secondly, it comes with an intergraded grinder (burr grinder) which helps you ground fresh coffee beans, right before espresso extraction. Talking about the espresso, it had a distinct layer of crema (just the way we like), and it brews consistent shots every single time.
They story remains the same with the frother, and thanks to the pannarello wand, steaming milk is a breeze.
On the flipside, the drip tray is flimsy, and the machine requires regular descaling and cleaning.
Overall it's the best home espresso machine we could find, and if an incredible cup of coffee is what you are gunning for, Breville BES870XL should be the newest addition to your countertop.
[Best Pick for Commercial Use] DelonghiPrima Donna Fully Automatic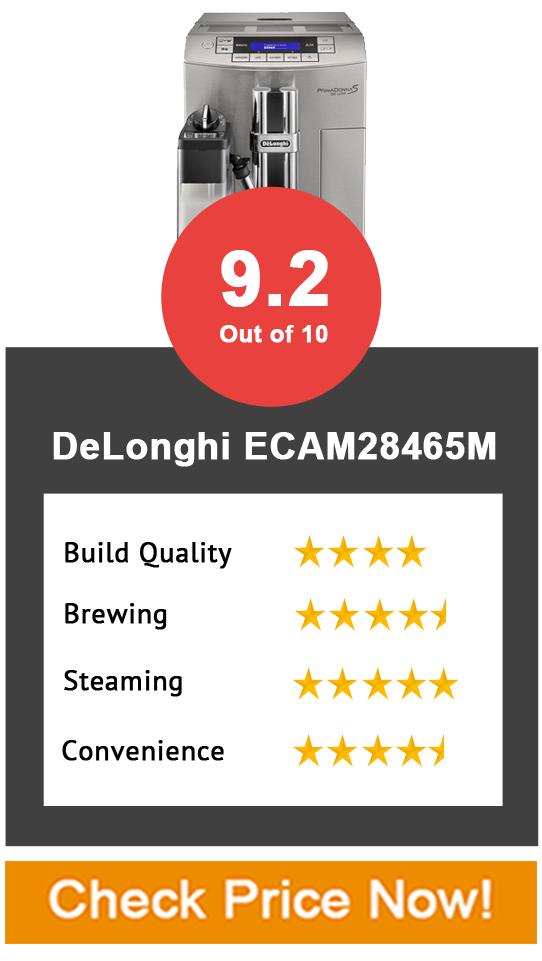 If you run an office, your employees probably take a break in the middle of the day to grab a coffee from the local café. With the Prima Donna, you can save their precious time, as you get your very own barista working for you.
This sounds a bit too much, right? Well, allow us to explain –
-> It's a bean to cup coffee machine, and all you have to do is push a button. It will grind fresh beans, brews espresso and froth milk. (Fully automated)
-> You can control everything from foam to coffee strength. And plus, it remembers the settings for future brews. (Just like a barista remembers what you like).
-> Cleaning is also automated and can be taken care of with just a press of a button.
Now all of these features come at a cost, but the Prima Donna will surely save you (and your employees) the trouble to walk down to your local café. (And btw it looks pretty dope sitting in your kitchen, and might just impress one or two of your clients).
Best Drip Coffee Maker
A drip coffee maker is what most Americans think of when it comes to coffee. It's a simple machine which relies on a paper filter, water, and ground coffee. Also, most drip coffee makers brew at least 8 cups of coffee at a time, which is exactly what you need for an average household.
Here are recommendations for the drip coffee maker –
[Best Pick Overall] Bonavita BV1900TS 8 Cup Coffee Brewer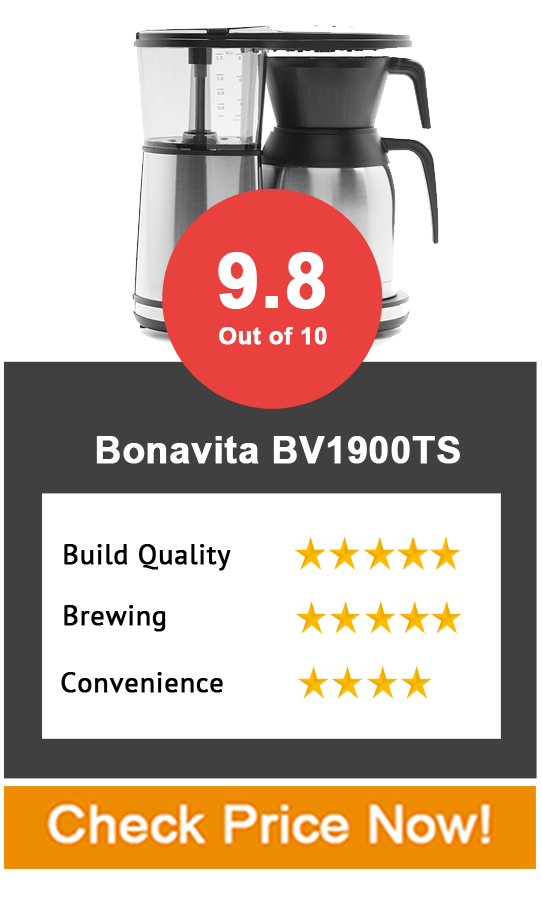 'Filter coffee just tastes meh' – This was the opinion of one of our editors at Freshpresso until he tasted the coffee brewed by this Bonavita brewer. He rated the cup as the 'best tasting filter coffee' he has ever had.
Bonavita managed to do this by using a simple technology – pre-infusion. It soaks the coffee grounds with water before extraction. This technology is used by some high-end espresso machines, for maximum flavor.
Bonavita pairs this up with a powerful heating element, which heats up the water up to 210 degrees Fahrenheit. Both of these features work together (kind of like Kobe and Shaq) to give you a delicious pot of coffee.
It, however, takes good 7-8 minutes to brew a pot. (But hey, all good things take some time right?)
We love this coffee maker, and if you care about taste, you will love this too.
[Best Value for Money] Cuisinart DCC-3200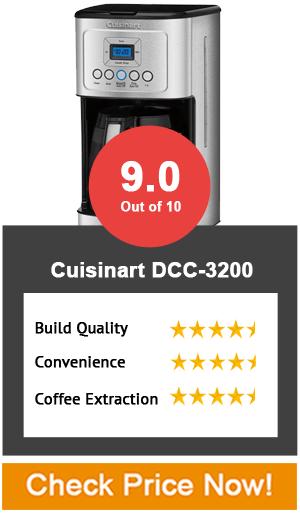 If you want something which is a bit faster and convenient, then the DCC-3200 is what you should get.
First of all, the coffee brewed doesn't taste bad. It has the same Cuisinart taste we have come to grow with. Furthermore, the coffee is warmer, stronger and has a smoother texture, a clear improvement from some of the old Cuisinart coffee makers.
It also comes with programming features, which help you to brew a pot automatically at a fixed time and handles cleaning by just the push of a button.
If you like to keep things simple and efficient, then this is the coffee maker you should get.
Best Single Serve Coffee Maker
Single serve coffee makers somehow revolutionized the coffee industry and was a perfect fit for the 21st century. People are getting busier and always want something that is fast and convenient. This is exactly what you get with the single serve coffee makers.
Here are our top recommendations –
[Best Pick Overall] Nespresso VertuoLine Evoluo Deluxe Coffee & Espresso Maker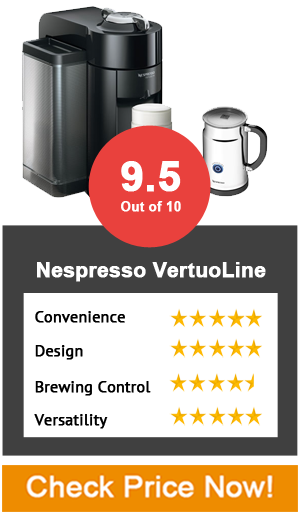 We are huge fans of the Batman Series, and if we had to imagine a coffee maker in Bruce Wayne's house, this would probably be it.
It is a stunning piece of machinery and is by far the most elegant coffee makers in the market today.
But it is not just about good looks, as the coffee brewed is also delicious. You can brew a standard flavored coffee and plus it now also supports espresso capsules. The Aeroccino Plus, which is a carafe automatically froths milk and gives some of the super automatic espresso machines, a run for their money.
With the single VertuoLine Bundle, you can brew a standard single serve coffee, a cup of rich espresso and automatically froth milk. And the whole process takes about two minutes. (Convenience my friend, is at the forefront).
All of this makes it one of most expensive single-serve coffee makers, but you are going to make a pretty loud style statement, and it will surely be the talking point when your friends come to visit.
[Best Value for Money] Keurig K55 Coffee Maker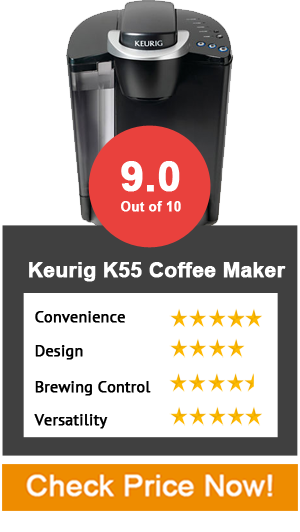 If you are the looking the 'best bang for your buck,' we will recommend the Keurig K55 all day long.
Brewing coffee on this is as simple as it gets. Take your favorite K-cup, pop it in and select the size you want to brew. It brews a delicious cup in under a minute.
It supports multiple brands of K-cups so that you can experiment with flavors, a large 40 oz reservoir requires less frequent refills, and it supports ground coffee so that you can have decaf at night.
If you are a heavy drinker, you will have set aside some time to descale and clean this thing.
Overall, the Keurig K55 is the perfect coffee maker for the Average American, and this is the only coffee maker which is owned by every single one of our editors.
Best French Press
Another way to brew a strong cup of black coffee is by using a French Press. They have been around for over a century now and remain one of the go-to machines for brewing coffee at home.
Here are our top recommendations –
[Best Pick Overall] Frieling French Press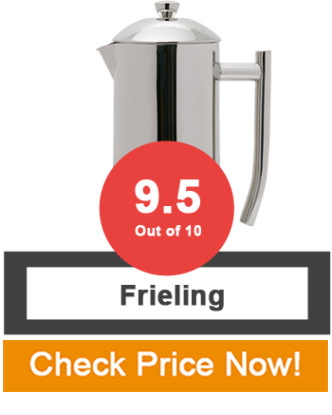 Made of rugged stainless steel, this is by far the toughest French press you can buy. So basically, it can handle a little bit of mishandling and a drop or two.
Stainless steel also helps in a better tasting coffee as more heat is retained inside the chamber.
Other components like the plunger and the lid are rock-solid, and durability is also taken care of in the Frieling French press.
[Best Value for Money] Bodum Chambord French Press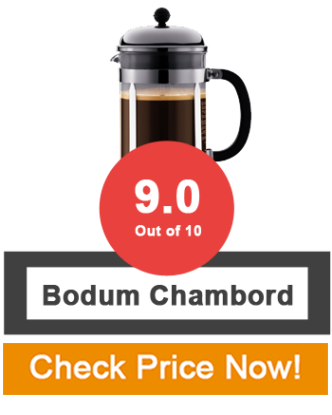 The Chambord is a glass French press and allows you to see the whole brewing process. The coffee brewed is somewhat smoother compared to the Frieling French press. (Freshly grounded coffee produced the best results).
Another nifty feature is the coffee catcher. It catches most of the coffee grounds, and if you have been afraid of the cleaning process after every brew, this makes your job a lot easier.
On the downside, with the glass construction, this requires added precaution and care.
Best Coffee Makers by Brands
Many people have a favorite brand when it comes to kitchen appliances. And sometimes, they fall in love with a particular brand and tend to buy from the same the next time around. If you are like of those people, then we have got you covered.
We have reviewed the bestselling coffee maker brands around the globe and narrowed down to the best they have to offer –
Keurig Coffee Makers
Earlier we talked about how single serve coffee makers revolutionized the industry. Well, Keurig was a company which pioneered this change. They introduced the 'K-cup' pods which made all of this possible and still hold most of the patents and trademarks, used by other companies.
Here is the best of what Keurig has to offer right now –
[Best Pick Overall] Keurig K250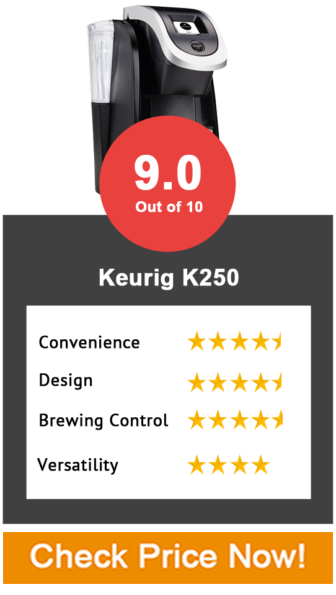 Part of the latest Keurig 2.0 line the K250 can brew larger cups of coffee (up to 30oz) using bigger pods. The regular K-cup takes about a minute to brew, while the whole K-carafe takes less than 5 minutes to brew.
The K250 also special technology, which adjusts the brew, according to the pod inserted. So if you insert a hot chocolate or tea K-cup, it will automatically adjust the brew cycle. This helps in better tasting beverages.
You also get greater control over the strength and flavor of the coffee. Cleaning is super easy, and all you have to do is push a button.
Overall, if you are looking for a single serve solution for your whole family, then this will be our top recommendation for Keurig.
[Best Value for Money] Keurig K55
Reviewed above.
Bunn Coffee Maker
BUNN is synonymous with quality & durability in the coffee industry. Most small restaurants and local diners have a Bunn, coffee maker. Usually, known for drip coffee makers, BUNN also makes espresso and single serve machines.
However, these are our top 2 recommendations for BUNN –
[Best for Commercial Use] Bunn VP17-1SS Coffee Brewer
This is the latest and greatest BUNN has to offer for commercial settings.
First up, the build quality is top notch, and it is one of the most durable coffee makers. So if your last model lasted for 20 years, this one would last a bit more than that. (and yes even with daily use)
Coming to the brew quality, the heating element heats up the water close to 200 degrees Fahrenheit, which is the ideal temperate for rich coffee extraction. It can easily brew 14 liters of coffee in an hour, which will be more than sufficient, even in your busiest hour.
Finally, with the warming plate, the remaining coffee in the carafe stays warm and ready to be served.
[Best for Home Use] – BUNN BT Velocity Brew 10-Cup Thermal Carafe
Like the commercial variant, the BUNN BT is built to last for years. But 'the velocity brew' technology is what makes it ideal for home use.
It can brew a pot of coffee (50 oz.) in under 3 minutes, which is by far the fastest among drip coffee makers. It is also pretty darn easy to use, and all you have to do is press a button. The BT variant comes with a thermal carafe, and the coffee stays warm in it for around 3-4 hours.
And like previous BUNN models, cleaning this will take time and effort, and you will have to descale regularly.
If you are a fan of filter coffee but need something which is quick, then you can't go wrong with the BUNN BT. 
Cuisinart Coffee Markers
We are willing to bet that you probably have something in your house that is manufactured by Cuisinart. Such has been the impact of this company, and their coffee makers are known for convenience and programmability.
Following are our top recommendations –
[Best Pick Overall] Cuisinart SS-15 12 Cup Coffee Maker
Love the convenience of a single serve machine and the taste of regular filter coffee? Well, you have the best of both the worlds with SS-15. It combines single serve and drips coffee maker into one single package.
Both of these operate as separate machines with their heating element and water reservoirs. The drip section gives you complete control over the coffee, and you can easily alter the strength. You can also program the machine to brew coffee at a fixed time.
With the single serve section, you can choose your favorite flavor of K-cup, pop it in and hit the brew button.
The Cuisinart SS-15 gives added functionality to the user and is one of the more thought out coffee makers, Cuisinart has ever made.
[Best Value for Money] Cuisinart DCC-3200 14-Cup Glass Carafe Coffee Maker
Reviewed above.
Best Coffee Grinder
The most flavorful coffee is extracted from freshly ground coffee beans. And this remains constant for different coffee makers – drip, espresso and French press. Some of our recommendations come with an integrated coffee grinder, but if you are looking to complete your home coffee setup, then getting a grinder is highly recommended.
Here are two recommendations for coffee grinders – 
[Best Pick Overall] Baratza Encore Conical Burr Coffee Grinder
This is 'one size fits all' among coffee grinders. With over 40 grind settings, it can give you fine coffee grounds for an espresso coffee maker to something coarser for a French press or drip coffee maker.
We were also impressed by the durability of this thing, and you can run this multiple times a day, and it will continue to perform. The powerful motor is designed to handle both oily and regular coffee beans. It can grind beans for a shot of espresso in under seconds which is insanely fast, considering you will use this for a home setting.
Finally, it is not as loud as some other coffee grinders and overall this is hands down most complete coffee grinder for home use.
[Best Value for Money] KRUPS F203 Electric Spice and Coffee Grinder
However, if budget is an issue, and you need something for light use, then the grinder by KRUPS gets the job done. Again, you can go for coarse to ultra fine grind. And it is also quick, which is quite impressive considering its price.
But on the downside, we found grind sometimes to be inconsistent, and the machine also needs to be cleaned regularly to avoid clogging.
Long story short, if you grind coffee beans once in a blue moon, then this something you can get.